Have you studied the best speakers?
To be the best you must learn from the best.
David Brooks is one of the best. He is the 1990 World Champion of Public Speaking and a highly sought after Professional Speaker and Trainer. I never miss an opportunity to attend a David Brooks presentation.
To become the best, and stay the best, David studies the best. How?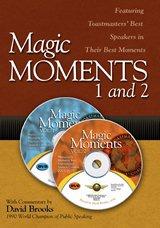 David studied 13 years worth of Toastmasters' World Championship finalists -- 10-15 hours of speeches from 126 of the best speakers in the world.
From those masters, David distilled the best examples of various aspects of speaking into two 60 minute DVDs full of "magic moments" and commentary:
Volume 1 features outstanding moments from the 1990-2000 Toastmasters' World Championships
Volume 2 features outstanding moments from the 2001-2003 Toastmasters' World Championships
These DVDs truly are aptly named, they showcase best practices for public speaking. David sells them through his website: www.davidbrookstexas.com/products
David also presents corporate seminars and keynote addresses, both of which are highly entertaining and informative. For more information, you can contact David through his website www.davidbrookstexas.com.