How to streamline your blog reading!
Do you use a blog reader? They can significantly streamline the way you review blogs!
I use Google's free blog reader, at reader.google.com. It may not be the best, it's just the first one I tried. If you don't already have a Google Reader account, they are free. All you need to do is register via the link at reader.google.com
Once you log in, you can:
Search for blogs of interest
Subscribe to blogs that interest you
Optionally organize subscribed blogs into folders e.g. group all your blogs about business marketing into one folder. You can have each blog show up in as many folders as you want.
Quickly skim titles of each blog entry then only review content from those that interest you
The Google blog reader provides an interface that resembles an Email inbox: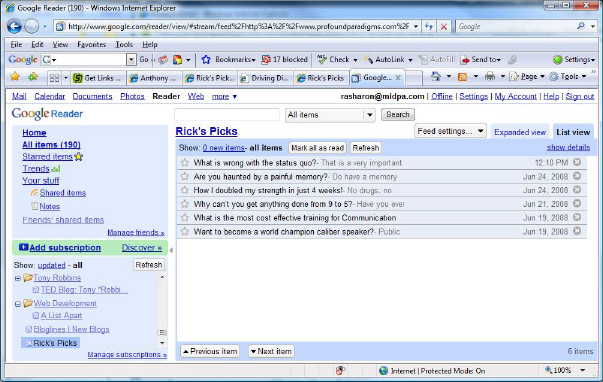 On the left side, you can scroll to the folder or blog you want to review then click on that link to see its blog entries.
Each folder or category will show the number of items not yet read e.g. out of all my subscribed blogs, I have 190 items not yet read (see the "all items" category).
On the right side, you can see the blog entry headers for the blog or folder you've selected. The above example shows entries from my "Rick's Picks" blog. Each blog entry is listed as a one-line header (the lines containing stars). Blog entries you haven't read yet will be highlighted in a different color.
Click on a blog entry header to "open it" and see its details: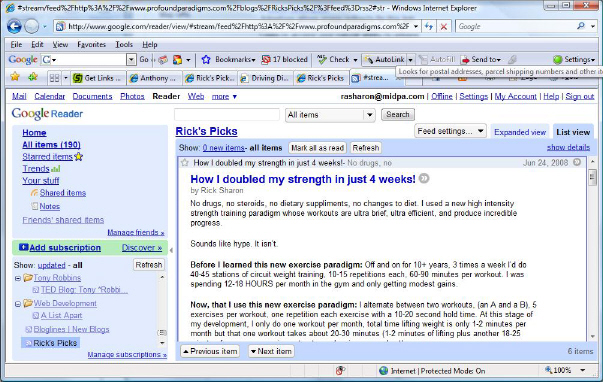 You can click on the header line again to close it.
After you've opened a blog entry, it will be marked as "read". You can always go back and re-read it again later if you want.
The ">>" link in the blog details will take you to the actual blog page on the website hosting that blog.
You can also "mark as read" those blog entries you don't care about, so they will no longer be highlighted as unread.
Google Reader has greatly increased my productivity for blog reading!
If you read blogs, why not try a blog reader? What other blog readers have you tried?